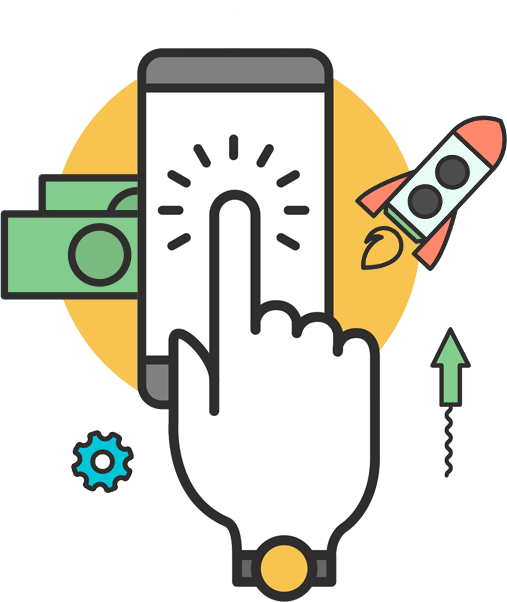 Mobile Application Development
If you are looking to grow your business and increase your daily frequent customers then it is the best time to launch a mobile app for your business. Our professional developers will help you to design and publish both IOS and Android mobile applications.
Having a mobile application means making it easier for your customers to reach you.
You can promote both of your business and mobile app simultaneously and each one will help the other one to grow faster.
Mobile app means an online branch of your business on your customers' mobile phones.
Send push notifications to your customers' mobiles and keep them updated from your latest products, services and offers.
Android Mobile Applications
Claritas est etiam processus dynamicus, qui sequitur mutationem consuetudium lectorum investigationes demonstraverunt.
IOS Apple Mobile Apps
Mirum est notare quam littera gothica, quam nunc putamus parum claram, anteposuerit litterarum formas humanitatis per seacula quarta decima et quinta decima.
Promoting Your Mobile Application
Duis autem vel eum iriure dolor in hendrerit in vulputate velit esse molestie consequat, vel illum dolore eu feugiat nulla facilisis at vero eros et accumsan et iusto odio.
Publish Mobile Applications On Stores
Nam liber tempor cum soluta nobis eleifend option congue nihil imperdiet doming id quod mazim placerat facer possim assum.
Mobile Apps Development Steps
First, our talented mobile application developers will draw a template of your future app. In the next step we need to know more about users and whoever will you the mobile app. Next step would be the main application - software designing step. We design the mobile app and will test it with different IOS (Apple) and Android OS. After final checking proceeds, you will have a demo of the mobile application - software. In this step based on your request we could implement tracking third parties like google analytics, firebase or mobile AdSense or other performance analyzing tools. At the final step, we will publish your mobile app on the apple app store or google android market.